A Short History
About Paul Gosling, Professional Massage Therapist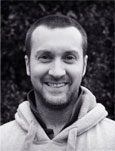 My background, in brief:
Level 3 City and Guilds in Body Massage
Diploma in Acupressure Seated Massage
Certificates in Trigger Point Therapy, Myofascial Release and Remedial Bodywork
Member of the Federation of Holistic Therapists (FHT)
In May 2010 Equilibrium Massage Therapy was born.
My name is Paul Gosling and I live in Guernsey and provide my massage service from the parish of St. Peter Port. I have been running my massage service from here since May 2010 after deciding to move into the career I felt most passionate about.
To me, massage is about about a mixture of circumstances coming together to make the most beneficial and relaxing experience for you. I believe that no two massages are ever the same for reasons such as the individual's skeletal structure, muscle mass, diet and emotional state.
These are just some of the conditions that I, as a massage therapist, have to be completely in tune with in order to offer individuals the best tailored massage experience I can. I offer massages for private individuals, corporate clients and sports persons. Each and every person who visits me has their own unique reasons for doing so and I see it as my duty to make their experience as beneficial and enjoyable as possible.